How Much Do You Know About Physical Therapy? – 101 Facts About Physical Therapy You Didn't Know
---
Did you know physical therapy addresses the illnesses or injuries that limit a person's abilities to move and perform functional activities in their daily lives? We know finding facts and figures about physical therapy can be time-consuming and frustrating, so we put together this list of the top 101 facts, notes, and statistics so you can easily reference them and refer back to them any time in the future. This space is constantly changing, so if you see a fact that is not up-to-date, feel free to let us know. And if you know a stat about physical therapy that we should add, let us know that too!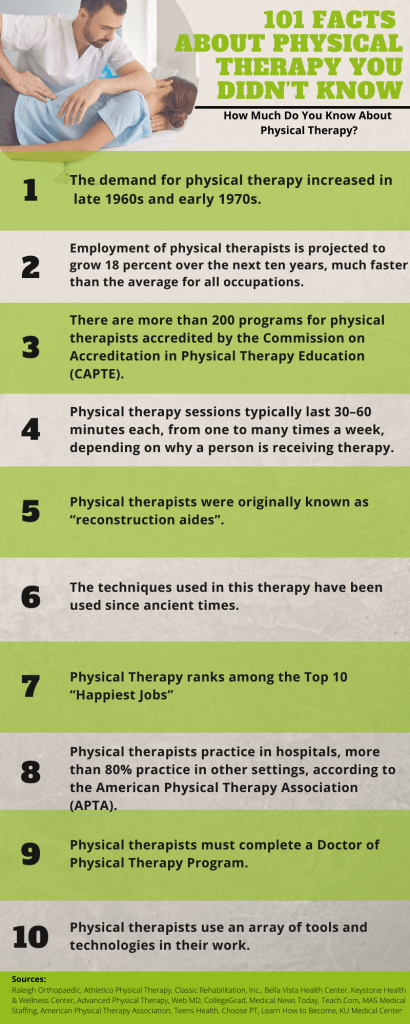 1. There are different types of physical therapy.
Physical therapy isn't just about knees or low back pain, as many patients believe. Physical therapy has a variety of specialties in various fields of operation: orthopedic, geriatric, neurological, cardiopulmonary and pediatric.
2. Physical therapy helps you manage age-related issues.
When it comes to coping with age-related illnesses, physical therapy is the most effective preventive and healing method.
3. Setting goals is important.
The best way to achieve good recovery outcomes is to set practical and attainable expectations at the start of your therapy.
4. Physical therapists hold advanced degrees.
A three-year Doctorate in Physical Therapy (DPT) degree is now offered by the majority of graduate programs. To obtain their license, physical therapists must pass a medical board test.
5. North Carolina has Direct Access.
Physical therapists can diagnose and treat you without having to see your primary care physician in many states, including North Carolina.
6. Physical therapy helps you manage diabetes.
Exercise may be an important part of a comprehensive diabetes management plan because it successfully lowers blood sugar levels.
7. Physical therapists and acronyms.
If the physical therapist has a professional doctorate, he will sign his name and add "PT, DPT" after it. Other letters can appear after these basic ones.
8. An experienced physical therapist can read your body like a book.
Your body tells a tale about your lifestyle, including your eating, drinking, and exercising habits, as well as the place you like to sit in.
9. Your physical therapist is not a personal trainer.
Your therapist will inspire you, empower you, drive you to your limits, and hold your hand during the process.
10. Questions in physical therapy are good!
We're used to our physical therapist asking us a series of questions to help him or her assess our PT needs.
11. Physical therapists can work in a variety of settings.
Hospitals, specialty clinics, private practitioners, home health agencies, schools, nursing homes, and even the emergency room are examples of places where their patients can be seen.
12. Physical therapists can treat vertigo.
It can be successfully treated with as little as one physical therapy session.
13. In many states, you can be evaluated and treated by a physical therapist without seeing your doctor first.
In August of 2018, Illinois became a Direct Access state, which means that a patient no longer requires a doctor's prescription to see a physical therapist.
14. Physical therapists alone cannot diminish your symptoms.
Physical therapy is most effective when the patient and the therapist collaborate to develop a care plan that meets the patient's objectives.
15. When a physical therapist tells you they are going to massage a muscle, it may not feel like the nice relaxing massage you get at the spa.
Massage in therapy is used to relieve muscle tension and increase tissue mobility in a particular muscle that may be inflamed or causing joint pain.
16. "No Pain, No Gain" does not always hold true.
Treatments and workouts should be painless the majority of the time. If you're being treated for low back pain or a tendon overuse injury, you should avoid certain movements or positions that might aggravate the problem.
17. It is so important to do your home-exercise program!
There's a reason why your physical therapist takes the time and effort to create a home routine tailored to your needs.
18. Physical therapy as a profession originated during World War I.
Many people are unaware that physical therapy was originally developed to treat American soldiers who had been wounded in battle.
19. Physical therapists were originally known as "reconstruction aides".
When physical therapy first emerged as an occupation during World War I, those who worked in the field were known by a different name than they are now.
20. The field of physical therapy was a female dominant profession initially.
Unlike many other occupations, physical therapists were mostly women in the beginning. Mary McMillan was the first president of the American Women's Physical Therapy Association.
21. The demand for physical therapy increased in the late 1960s and early 1970s.
During this time, schools were having difficulty graduating physical therapists quickly enough, which is why the physical therapy assistant role was established.
22. Initially, you only needed a bachelor's degree to work as a physical therapist.
This changed in the 1990s, when someone interested in working as a physical therapist was required to participate in a Master of Science program. In the twenty-first century, the career progressed once more, and it is now at the doctoral level.
23. Physical therapy can treat many medical conditions
There are several medical conditions that can benefit in various ways from physical rehabilitation, including: Parkinson's Disease, Huntington's Disease, Cerebral Palsy, Lymphedema, Multiple Sclerosis, Vertigo, Muscular Dystrophy, Osteoarthritis, Carpal Tunnel Syndrome, Chronic Obstructive Pulmonary Disease (COPD), Diabetes and Pelvic pain and sexual dysfunction
24. Patients of all ages can benefit from physical therapy.
Physical therapists work with patients of all ages, from children who are struggling to meet developmental goals to seniors who have had a stroke.
25. Physical therapists are not masseuses.
Physical therapists, as previously mentioned, must complete comprehensive education in order to receive a license, but many people mistakenly believe that physical therapy is similar to a complicated massage. Masseuses, on the other hand, typically give massages for the purpose of relaxation and stress relief.
26. at a physical therapy clinic alone is not enough.
The majority of physical therapy services include clinic visits (or private at-home sessions with a therapist) as well as a personalized fitness schedule that patients must follow in between sessions.
27. The techniques used in this therapy have been used since ancient times.
As early as 460 BC, the Greek philosopher Hippocrates and later Galen were among the first to promote the use of massage and hydrotherapy.
28. Physical therapists are trained in massages.
Massage is part of a physical therapist's training, but unlike a professional masseuse, you can't expect a physical therapist to give you a relaxing massage.
29. It is a feasible treatment option.
Patients who received physiotherapy spent almost half as much as those who had surgery.
30. It ranks among the Top 10 "Happiest Jobs"
Physical therapy is one of the top ten happiest occupations in the country, according to Forbes magazine.
31. You need to carry out the exercises given to you at home.
Your therapist devotes a significant amount of time and effort to creating a home routine that meets your needs.
32. Physical Therapists treat jaw pain.
Dentists may treat TMJ pain in a variety of ways, but referring a patient to physical therapy (PT) is still uncommon. Soft tissue work on the masseter, sternocleidomastoid, and lateral and medial pterygoid muscles (muscles surrounding the TMJ) may help with constraints and discomfort, as well as increase mobility.
33. Physical Therapists treat urinary pain or incontinence.
A pelvic floor specialized physical therapist may be able to assist men who are experiencing sex pain, painful urination, trouble going to the toilet, or dribbling.
34. Physical Therapists treat Concussions.
A therapist may be able to assist you or your young athlete in returning to play more quickly and safely.
35. Physical Therapists treat Headaches.
To help minimize the frequency and severity of headaches, a doctor should devise a treatment plan that addresses the specific impairments.
36. At your first appointment, you will undergo an assessment.
Usually it will take about 45 minutes.
37. The Physical Therapy exam will include strength tests.
These objective measurements will assist your PT in establishing treatment benchmarks and developing an exercise program.
38. Most patients will then see their physical therapist for several visits.
The number of visits required varies depending on the individual's needs and progress.
39. Physical therapists typically work in private offices and clinics, hospitals, patients' homes, and nursing homes.
They spend a significant amount of time on their feet, interacting with patients.
40. Employment of physical therapists is projected to grow 18 percent over the next ten years, much faster than the average for all occupations.
Physical therapy is expected to be in high demand since the baby boomer generation ages, as they are more likely to remain active later in life and are more vulnerable to health problems such as strokes, which could necessitate physical therapy. Physical therapists may also be required to help people who have mobility problems as a result of chronic illnesses like diabetes or obesity.
41. Physical therapists, sometimes called PTs, help injured or ill people improve their movement and manage their pain.
Patients with chronic diseases, disabilities, or accidents also depend on these therapists for recovery, care, and prevention.
42. Physical therapists often lift and move patients, they are vulnerable to back injuries.
When helping patients, physical therapists can reduce these complications by using appropriate body mechanics and lifting techniques.
43. There are more than 200 programs for physical therapists accredited by the Commission on Accreditation in Physical Therapy Education (CAPTE).
A Doctor of Physical Therapy (DPT) degree is available in all programs.
44. Physical therapist programs often include courses in biomechanics, anatomy, physiology, neuroscience, and pharmacology.
Physical therapy students must also perform at least 30 weeks of clinical work in areas such as intensive care and orthopedics.
45. Physical therapists may apply to and complete a clinical residency program after graduation.
Residencies are usually one year long and offer advanced training and experience in specialized fields of treatment.
46. Physical therapists may apply to and complete a clinical residency program after graduation.
Residencies are usually one year long and offer advanced training and experience in specialized fields of treatment.
47. All states require physical therapists to be licensed.
State licensing standards differ, but they all include completing the Federation of State Boards of Physical Therapy's National Physical Therapy Examination.
48. Important Qualities for Physical Therapists.
Qualities such as compassion, detail oriented, dexterity, interpersonal skills, physical stamina, resourcefulness and time-management skills.
49. The median annual wage for physical therapists is $89,440.
Half of the workers in a given profession earned more than that amount, while the other half earned less. The bottom 10% of earners paid less than $62,120, while the top 10% earned more than $124,740.
50. Physical therapists engage in an examination process.
Examination process includes taking the patient's medical history, reviewing the medications, test results and notes from other health care providers, conducting a systems review and performing tests and measures to identify potential and existing problems.
51. Physical therapists practice in hospitals, more than 80% practice in other settings, according to the American Physical Therapy Association (APTA).
Physical therapists operate in private practices, outpatient clinics, home health agencies, schools, sports and recreation centers, workplaces, and nursing homes, among other environments. a study of the systems, as well as tests and measurements to identify possible and current issues.
52. A physical therapist helps take care of patients in all phases of healing, from initial diagnosis through the restorative and preventive stages of recovery.
Physical therapy may be used alone or in conjunction with other therapies.
53. Physical therapists can treat COPD.
Chronic obstructive pulmonary disease (COPD), cystic fibrosis (CF), and post-myocardial infarction (PMI) are both cardiopulmonary diseases (MI).
54. Physical therapists can treat carpal tunnel syndrome.
Carpal tunnel syndrome and trigger finger may also benefit from hand therapy.
55. Physical therapists can treat musculoskeletal dysfunction.
Back pain, rotator cuff tears, and temporomandibular joint disorders are all examples of musculoskeletal dysfunction (TMJ).
56. Physical therapists can treat neurological conditions.
Strokes, spinal cord injury, Parkinson's disease, multiple sclerosis, vestibular dysfunction, and traumatic brain injuries are all neurological disorders.
57. Physical therapists can treat pediatric conditions.
Developmental delays, cerebral palsy, and muscular dystrophy are all disorders that affect children.
58. Physical therapists can treat sports-related injuries.
Concussions and tennis elbow are examples of sports-related injuries.
59. Physical therapists can treat women's health and pelvic floor dysfunction.
Urinary incontinence and lymphedema are examples of pelvic floor dysfunction in women.
60. Finding a physical therapist is to look online or access the APTA Find a PT web-based tool.
A variety of factors, including insurance approval, specialization and purpose for care, and geographic location, may all play a role in finding a suitable physical therapist.
61. Physical therapists can specialize in fields such as: cardiovascular and pulmonary health, clinical, electrophysiology, health for older people, neurology, orthopedics, pediatrics, sports physical therapy, and women's health.
Physiotherapists study genetics, anatomy, cellular histology, psychology, exercise physiology, biomechanics, kinesiology, neuroscience, pharmacology, pathology, behavioral sciences, cardiovascular and pulmonary, endocrine and metabolic, and musculoskeletal research over the course of several years of training.
62. A physical therapist assistant works under the direction and supervision of a physical therapist.
They carry out specific aspects of patient care, collect data on treatments, and adjust treatment as directed by the supervising physical therapist.
63. Physical therapy assistants may perform the following duties: teaching and assisting patients in exercises that improve mobility, strength and coordination, training patients in using crutches, canes or walkers properly and administering massage or electrotherapy.
You must earn an associate degree from a two-year program approved by the Commission on Accreditation of Physical Therapy Education (CAPTE) and pass a national licensing test to work as a physical therapist assistant.
64. Being a physical therapist enjoys great pay.
Even so, it's nice to know that a good pay is one of the benefits of being a physical therapist. This means you'll be able to live comfortably and, ideally, strike a good work-life balance.
65. When choosing a career in Physical Therapy, schooling becomes a large cost that will most likely require a student loan.
If you want to specialize, you may need extra training and incur additional expenses. The generous salary would undoubtedly aid in the repayment of student loans!
66. As a Physical Therapist, you can choose to have your own practice, set your own hours, and schedule set lunch and break times.
This benefit may seem insignificant, but it is critical to your overall health. Burnout can affect anyone, but it's more common in the medical field due to high-stress conditions and limited downtime during shifts.
67. As a Physical Therapist, If you choose to work in a hospital, the perk mentioned above may not apply to you.
Furthermore, if you work in a high-volume practice, you should expect your days to be busier and longer.
68. Did you know you can be a traveling Physical Therapist?
PT specialists are in high demand during peak seasons, when healthcare systems and recovery centers around the country seek them out.
69. Physical Therapists must obtain a license in each state they want to practice, and renew that license every two years.
For traveling professionals, this may become a bit of a hassle for them.
70. The demand for Physical Therapists is so high in fact, that job security is a given.
In today's work market, having a stable career is a benefit you can never overlook!
71. PTs are generally healthy, fit people!
Maintaining a nutritious diet and having enough sleep are important for performing at your best.
72. If your interest is in healing, Physical Therapy may very well be the perfect career choice for you.
Your education and continuing certifications will ensure that you have a thorough understanding of the human body. Physical Therapists are specialists from head to foot, unlike many medical practitioners that specialize in one system or illness kin.
73. Working as a Physical Therapist ensures you endless career satisfaction.
The fact is, you're helping injured patients get back to a normal lifestyle. That's unbelievable!
74. Licensed physical therapists may choose to pursue a residency or fellowship program to enhance their knowledge and practice.
Clinical residency is designed to advance the preparation of a physical therapist as a provider of patient care services in a defined area of clinical practice. It combines the opportunities for ongoing clinical supervision and mentoring with the theoretical basis for advanced practice and scientific research.
75. Physical therapists also have the opportunity to become board-certified clinical specialists through the American Board of Physical Therapy Specialties.
Specialization is the process by which a physical therapist builds on a broad base of professional education and practice in order to develop a deeper knowledge and skills related to a particular field of practice. In order to practice in a specific area, PTs are not required to be certified.
76. Physical therapists (PTs) often ask patients to use exercise equipment like bikes and treadmills.
Most physical therapy uses a combination of pain-relieving techniques to enhance coordination, strength, endurance, flexibility, and range of motion.
77. In addition to exercising the affected area, a PT also may treat it with heat or cold, electrical stimulation, ultrasound, massage, and even aquatic therapy (exercise in a swimming pool).
In many cases, PTs will massage soft tissue in wounded areas and oversee the patient during stretching routines.
78. Physical therapists usually give their patients exercises to do at home.
These at-home exercises work with PT's treatments and exercises to help a person heal better, faster, and safer.
79. Physical therapy sessions typically last 30–60 minutes each, from one to many times a week, depending on why a person is receiving therapy.
As you progress, your visits may vary in length and frequency. You will learn new techniques to help keep your healing going.
80. In big offices, you may meet with different PTs during the course of your treatment.
Don't worry if you see a new face—but make sure that every PT working with you knows your condition, and that you're comfortable asking each therapist's questions. Remember: if you don't like treatment, or if you feel something wrong, just say it.
81. Keep in mind that It's important to follow the PT's instructions.
Do your exercises at home in the number, order, and frequency indicated. Don't skip any, and don't do any extra exercises—following directions will help you heal faster and get moving again.
82. Keep in mind to always ask questions and pay attention when the PT explains the injury and the treatment.
You'll probably be amazed at the way your body heals itself. And you're going to want to know how the affected area works so that you can see problems or avoid further injury in the future.
83. Keep in mind to consult your PT if you have problems.
If things hurt, if you have questions, or if you don't make progress in the way you thought you would: ask. The PT is here to help you out.
84. Keep in mind to celebrate your successes.
If things hurt, if you have questions, or if you don't make progress in the way you thought you would: ask. The PT is here to help you out.
85. It's a myth that you need a referral to see a physical therapist.
The referral of a physician is not required to be evaluated by a physical therapist.
86. It's a myth that physical therapy is painful.
Physical therapists seek to minimize your pain and discomfort, including chronic or long-term pain. They work within your pain threshold to help you heal, restore movement and function.
87. It's a myth that physical therapy is only for injuries and accidents.
Physical therapists do much more than just stretch or strengthen weak muscles after surgery or injury.
88. It's a myth that any health care professional can perform physical therapy.
Many physical therapists also carry out board certification in specific areas such as neurology, orthopedics, sports or women's health.
89. It's a myth that physical therapy isn't covered by insurance.
Most insurance policies cover some kind of physical therapy. Beyond insurance coverage, physical therapy has proven to reduce costs by helping people avoid unnecessary imaging, surgery, or prescription drugs. Physical therapy may also lower costs by helping patients avoid falls or by addressing conditions before they become chronic.
90. It's a myth that surgery is your only option.
Those who have recently seen a physical therapist know this is true, and 79% believe that physical therapy can provide an alternative to surgery.
91. It's a myth that you can do physical therapy on yourself.
Your participation is key to a successful treatment plan, but every patient still needs expert care and guidance from a licensed physical therapist.
92. Physical therapists must gain hands-on physical therapy experience.
Physical therapy shadowing is one of the main requirements for admission to the most high-quality Physical Therapy PhD programmes.
93. Physical therapists must complete a Doctor of Physical Therapy Program.
The typical Physical Therapy PhD, according to APTA, takes three years to complete. A typical physiotherapy curriculum is 80 per cent classroom and laboratory study, and 20 per cent clinical education, so you'll not only learn about your subject, but also gain hands-on experience.
94. Physical therapists must fulfill physical therapy license requirements.
All aspiring physical therapists must pass the National Physical Therapy Examination to obtain a PT license (NPTE).
95. Physical therapists must attend a physical therapy residency or fellowship.
If you want to specialize in physical therapy, such as orthopedics or sports, you will need to complete a residency program and/or a Physical Therapy fellowship.
96. Physical therapy is an academically rigorous field, requiring practitioners to understand the complex systems of the human body, how they work, and how they can be rejuvenated after an injury.
Students in PhD programs learn extensively about the physical and emotional effects of injuries and how such factors influence treatment in order to develop the most effective recovery plan for each individual patient.
97. There is a vast amount of healthcare information available, and physical therapists need to evaluate it with a discerning eye.
Students learn how to critically evaluate industry research and assess its validity and practical application.
98. The decisions made by physical therapists greatly impact how well a patient recovers from an accident or injury.
Physical therapists develop decision-making skills in their doctoral studies that draw on evidence-based research, advice from other practitioners, and their own past experience.
99. Physical therapists must master a host of different skills to perform their responsibilities effectively.
Strong observational skills help them diagnose the problems of patients and evaluate treatments. Because a lot of work involves standing up while providing manual therapy and therapeutic exercises, dexterity and physical stamina are also important.
100. Physical therapists use an array of tools and technologies in their work.
For example, balancing beams and boards are designed to help patients regain their balance by working specific muscle groups and developing reflexes; specially designed tendon test hammers and nerve reflexes; and adjustable work tables provide a comfortable and effective space for stretching and other exercises.
101. The University of Kansas has long been a pioneer in Physical Therapy education.
From consistently high rankings in national publications to recognition as a leader in rehabilitation science research, KU has demonstrated excellence in this exciting, dynamic health field.
---
Sources
Raleigh Orthopaedic, Athletico Physical Therapy, Classic Rehabilitation, Inc., Bella Vista Health Center, Keystone Health & Wellness Center, Advanced Physical Therapy, Web MD, CollegeGrad, Medical News Today, Teach.Com, MAS Medical Staffing, American Physical Therapy Association, Teens Health, Choose PT, Learn How to Become, KU Medical Center